¡Seguimos En La Lucha!
On International Women's Day, we honor the women who organize, stand up to their bosses and reclaim their dignity. "We are building power to validate our rights by coming together and using our voices. We have come to understand that we are not alone and we have no choice, but to continue fighting. ¡La lucha sigue!" – Yesenia Bucio, Worker's Justice Project member leader.
Since it's founding, the Worker's Justice Project has been invested in supporting women to develop and assert their power in their own community. Today, we honor the women from Worker's Justice Project (WJP) who are transforming all systems of exploitation, racism and patriarchy by: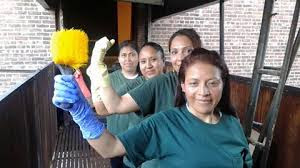 1. Creating a just economy based on trust and care. In 2010, Apple Eco-Cleaning, a worker-owned cleaning cooperative was formed. "We were founded by a group of women day laborers who against odds have found a way to organize in the quest for a better job, a better treatment and eventually a better quality of life to our families," Rosa Palaquibay, Worker's Justice Project member leader.
2. Building a safety culture in the construction and house cleaning industry. In partnership with New Labor, WJP women leaders have become safety liaisons and are proactively promoting safe working conditions by facilitating Occupational Safety and Health Administration OSHA-10 classes and supporting workers who are standing up for better working conditions.
3. Organizing to win dignity and respect. Women day laborers are lifting up their voices, standing up with courage and organizing with determination to humanize their labor and win basic basic protection in the housekeeping industry. Watch Vox Video to learn howJornaleras are Fighting for Justicia!